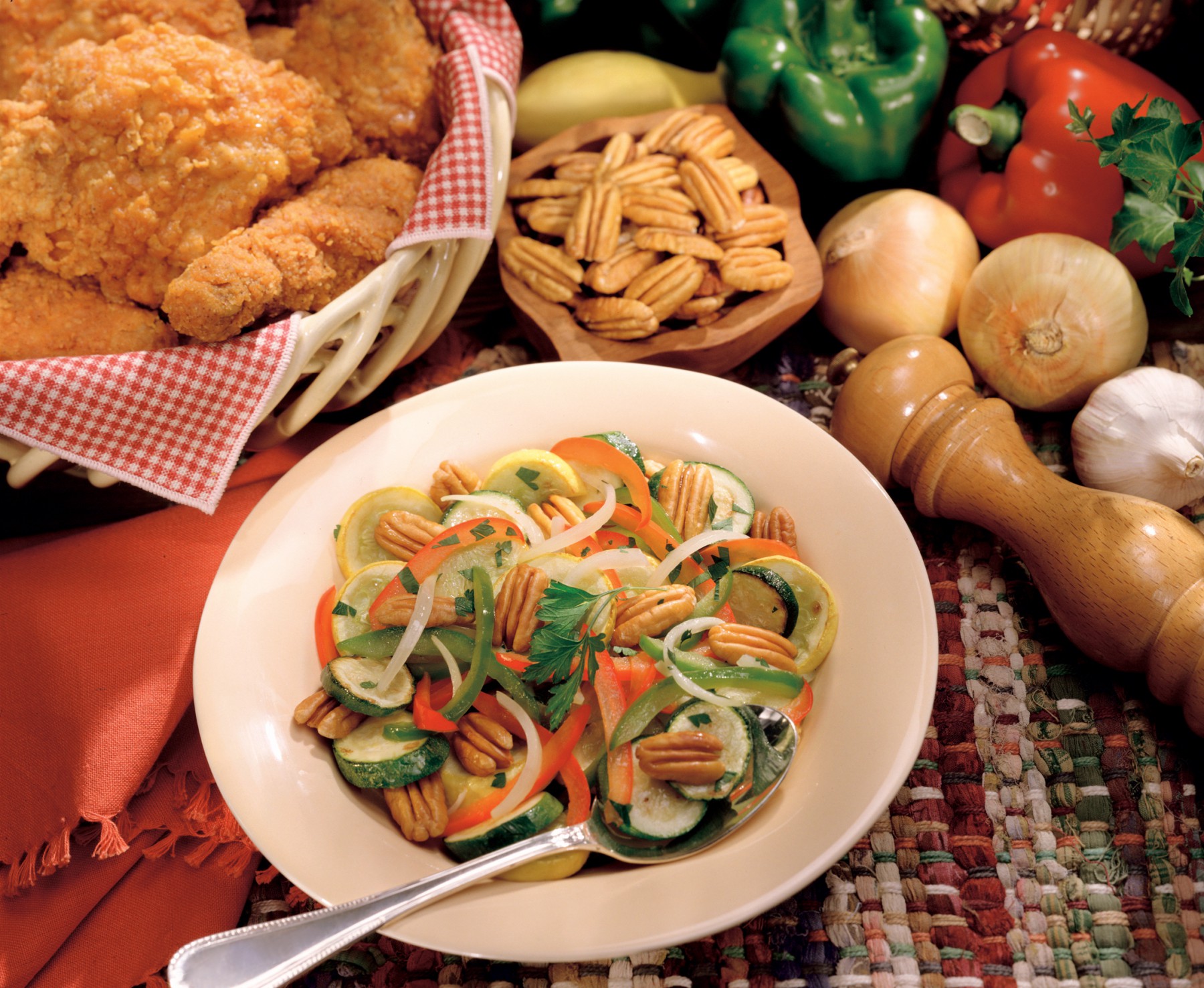 Ingredients
3 tablespoons olive oil, divided
1 cup Georgia pecan halves
1 medium onion, thinly sliced
2 cloves garlic, peeled and thinly sliced
4 small yellow summer squash, sliced 1/4-inch thick
4 small zucchini, sliced 1/4-inch thick
1 large red bell pepper, cored, seeded and cut into thin matchstick slices
1 large green bell pepper, cored, seeded and cut into thin matchstick slices
1 tablespoon fresh lemon juice
2 tablespoons minced fresh oregano, optional
Salt and freshly ground black pepper to taste
Directions
In large frying pan over medium-high heat, place 1 tablespoon of olive oil and when hot add pecan halves. Stir to coat, and let toast for 1 – 2 minutes, stirring constantly, or until nuts are a deep rich brown. Remove from the heat, place pecans on paper towels to drain. Set aside.
Place pan over medium heat and place remaining 2 tablespoons olive oil in the pan. When hot, add the onion and garlic and sautee for 3 – 4 minutes, stirring constantly, until onion slices soften. Add squash, zucchini, and pepper slices; stirring constantly, sautee vegetables until tender, approximately 5 – 7 minutes.
Remove pan from heat and season with lemon juice, oregano and salt and pepper to taste. Stir in the reserved toasted pecans and serve with grilled pork, fish or chicken.